Mobile Apps
8 Mobile Application Development Trends That Will Rule in 2021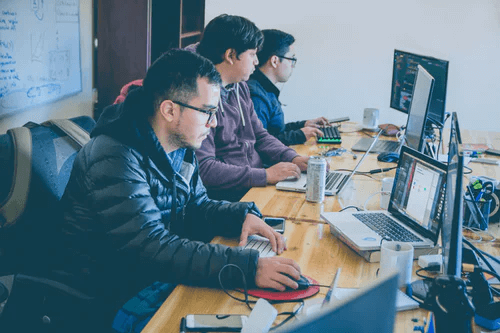 The digital revolution does not wait for anyone. That much we've all learned since COVID-19 barged into our lives. Either you hop aboard the express train to change or face the risk of being left behind. 
The same can be said about app development.
Considering how smartphones now play an integral role in our daily lives, apps must adapt to changes in user demands and needs. With limitless options on the app store, people will replace an app that becomes outdated with something newer. But as an app developer, you can't afford to spend time and money on developing apps no one wants to use. 
If you're an app developer excited about developing a successful app that people will want to download, you need to read this blog. Today, we'll discuss the top app development trends that you should focus on in 2021. 
So what's trending in the world of app dev?
1. Augmented reality and virtual reality
Though AR and VR are not newcomers in the app industry, they will continue to revolutionize it. There's considerable scope for advancement in this arena. 2021 will witness more applications of these technologies, especially as the pandemic continues to distance people from one another. 
COVID has drastically altered consumer behavior, pushing more and more people online. In order to improve UX, brands aim to increase engagement with more enhanced apps. Since AR and VR-backed apps are more interactive, people are happy (and excited) to use them. 
2. 5G
5G is just around the corner. Reports predict that investments in 5G infrastructure will reach 2.3 billion US dollars by the end of this year.
This high-speed technology is poised to impact mobile app development head-on. It will change how apps are created and used. For instance, 5G can significantly improve app speed, efficiency, performance, and functionality. This means brands can upscale their offerings, taking their business to greater heights.
3. IoT Integration
As the availability and accessibility of 5G grow, the network of devices connected through the internet is bound to increase. People have become accustomed to pampered lifestyles, whether it's to check the lock on the front door or adjust the AC's thermostat. So apps that support IoT integration are the future.
People are more willing to incorporate smart technologies into their daily lives than ever before. As a result, the IoT market is expected to reach $222 billion this year, claims windpowerengineering.com. More than half of the money will come from software, like mobile apps. Therefore, the demand for apps that manage IoT devices will skyrocket. Therefore, the app you design should effectively connect with various machines, allowing them to exchange information effortlessly.
4. Wearable Devices
Recently, there's been a boom in the development of wearable digital products. From glasses to smartwatches to trackers, hands-free gadgets are on the rise. 
Developers will need to design apps according to which wearable technology is being developed. For instance, when Apple brought the App Store to Apple Watch, app developers had an enormous opportunity to create new apps adaptable for the smartwatch. 
As IoT and 5G integrate into our existence, it will create an environment that supports more technologies. The use of wearable devices will steadily increase. Developers will need to design apps that adapt to these newer devices. Moreover, they will need to enhance apps' ability to send and receive data, helping to synchronize information from various sources.
5. Artificial Intelligence (AI)
AI is not altogether a new concept in app development. Siri and Alexa are proof of how well we are dependent on AI-backed technologies. But even so, developers have merely scratched the surface here.
Developers know that AI can make their apps smarter and better. They're eager to embed more AI-backed applications into their apps. Emerging trends indicate that AI implementation in mobile apps could be successful in the following:
Predictive maintenance

Image recognition

Speech recognition

Facial recognition

Text and image classification
6. Enhanced App Security
Since everyone is transitioning onto the digital landscape, the chances of cybercrime are on the rise. Alarmingly, helpnetsecurity.com quotes that 49 percent of all risky online transactions came from mobile devices in the first half of 2019, a 30 percent increase from 2018.
Any app can become the victim of online fraud. For instance, not too long ago, an airG scam resulted in Telstra and Vodafone customers being billed for a chat service they did not subscribe to. Though the amount was small, some people raised the red flag, alerting the company, which quickly responded and reversed the charges. 
Needless to say, these challenges remain even today, possibly even more so. Developers, therefore, need to ensure every customer's sensitive data is always protected. They should do whatever it takes to offer the best security measures for the app. From dual-factor authentication to password encryption to strong hack-proof codes, app developers must implement the best security features. 
7. Foldable Devices
Flip phones are back. In 2019, nearly 3.2 million foldable phones were shipped. By next year, the number is predicted to increase to 50 million units, claims Statista. More companies are launching new foldable devices. Recent models include the Huawei Mate X, the new Motorola Razr, and Samsung Galaxy Fold. 
So what does this translate to for you as an app developer?
Smartphones that fold have screens with variable screen sizes. For instance, unfolding the device makes the display bigger. From an app development perspective, app creators need to keep this design element in mind. The app should perform seamlessly, adjusting content to display it according to the size of the screen a person wishes to use. 
8. Mobile Commerce
COVID has played a strong hand in pushing businesses, small and large, onto the virtual space. Nearly 75 percent of total ecommerce sales will be from mobile phones alone this year. The increase in ecommerce means that a lot more focus will be on ecommerce app development. So yes, app developers can expect to see this niche thrive, grow, and generate more revenue.
An ecommerce app represents a brand or business. Therefore, it needs to work flawlessly. However, in order for an ecommerce app to remain competitive in the app market, it should have the following features:
Present products with AR or VR

Shopping cart

Seamless checkout

Shipping options

Multiple secure and easy in-app payments

Social media integration

Personalized content and recommendations

Push notifications

Access to loyalty programs

Access to improved customer service like chatbots
But these are just a few essential aspects. When it comes to ecommerce, app developers can get as creative as they want in order to cater to the consumer's needs. The focus is on improving functionality and providing more value to the users.
Over to you 
Mobile apps continue to be one of the most in-demand technologies around the world today. They're reshaping how businesses operate, consumers shop, and people interact with one another. But as technological advancements increase, new apps will continue to evolve. In fact, the industry shows no sign of slowing down any time soon. 
That's great news if you're an app developer. However, it also means that there is a considerable amount of competition in the market. For your app to remain viable, you need to incorporate the latest trends into your development plans. We've mentioned only a few of the popular app dev trends. Tell us about any others you may have in mind in the comments section below.
So are you ready to bring your newest app onto the market?