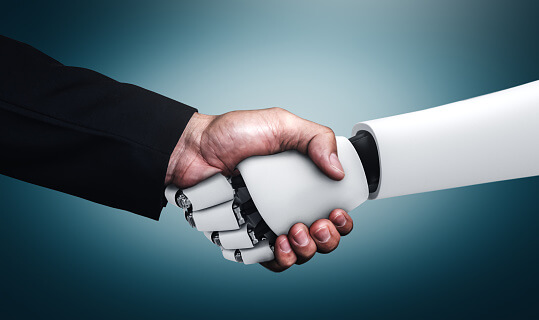 Last year, the IEEE-RAS international conference was initially planned to highlight Humanoid Robots. However, due to the pandemic, it took place virtually on July 19-21, 2021, discussing the progression of humans like Robots (Talos & Memmo). Apart from this, robots manufacturing is growing exponentially. As a result, multiple smart apps (Artificial Intelligence) are being made to make Robots act just like humans. On the good side, the average cost of building an app with AI power is the same as typical apps, although some variations in them would cost you otherwise.
In addition, the IEEE-RAS international conference on Humanoid Robots is a well-known event in humanoid robotics. The world will drastically shape up into the maximum use of robots once this workshop comes to fruition. Not to mention human-like robots (Humanoid robots) will be helpful in multiple sectors, healthcare, business, house chores, public services (government use) – to name a few. Additionally, this workshop initially came to pass in 2000 and was held every year after that.
Humanoid Robotics working areas include:
Mechatronics

Control

Perception

Planning

Learning

Human Robots Interaction

Biomechanics

Artificial Intelligence

Cognition

Neuroscience
However, the event took place virtually due to the pandemic last year. And even so, PAL Robotics took part and flaunted their legged robots at the virtual conference.
PAL Robotics Featuring Legged Robots
PAL Robotics is an organization (team) primarily comprised of passionate engineers that have established roots in the robotics business. This team design, craft, and customize humanoid (Human-Like Robots) in addition to customizing mobile bots to aid your organization to grow beyond. However, PAL Robotics plays a part by touring its legged robots at the event. While PAL Robotics also announced that their newly made quadruped robot SOLO12 is released and available for purchase during the event. Also, this organization invented multiple types of tangible and intangible intelligent devices to boost the human experience in houses and businesses. Most recently, PAL Robotics made a huge buzz globally about its Kangaroo jumping robot.
The workshop was organized by Prof Katja Mombaur, Dr. Marie Charbonneau, and Dr. Franscisco Andrade Charvez of the University of Waterloo, Canada. Read More about this – Here. 
Workshops At Humanoids Included
Here are the following agendas that were included in the workshop this year:
Physical Social Human-Robot Interaction
The main focuses of this workshop were to unite the physical-social interaction and human-robot interaction research groups and cause (on the topic) thoughts. This was based mainly on the social and moral effects of physical interaction in HRI (Humanoid Robot Interaction). In addition to pHRI and sHRI, non-verbal communication was part of the discussion.
Moreover, the workshop is doing pretty great by boosting awareness about the progressions of robots. So it's beneficial for both technical and non-technical individuals. Not to mention the works shop widely displayed the HRI progressions of Humanoid robots and how in time, it'll do more than just that, although that was quite enough from human perception. 
TALOS (The Humanoid Robot)
TALOS is the latest game-changing humanoid robot that encompasses leading-edge robotics technology. In contrast, this outstanding technology (Humanoid robot) status and progress were significantly displayed and discussed in the event. The genius technology (TALOS) was featured by PAL Robotics, discussing its humanly approaches in addition to its torque-controlled (torque sensor technology).
The workshop also included an exhibition of TALOS (a bipedal robot) jumping and even balancing itself while landing. More importantly, for the feats and abilities of PAL Robotics (TALOS), multiple other speakers (who are working on the humanoid platform themselves) were also imposed to share their views on TALOS.
TALOS Software Stack Upgrades
This segment includes TALOS software stack advancements and progress on whole-body control. Not to mention PAL Robotics is continuously working to improve TALOS capabilities. That includes new upgrades on dynamic motions and to its whole-body architecture.  On the other hand, the latest upgrades on TALOS include while which they widely discussed in the event (workshop):
Torque Control

ROS Melodic

2kHz RT Control

Improved Robustness

Enhanced Usage for Customers

And More…
Locomotion in Torque Control
It can come to you as a surprise that TALOS can walk on uneven or inclined surfaces thru Body Inverse Dynamics Controllers. While before this time, no robots would have possibly crossed any obstacle, but fast forward to today, humanoid robots as such TALOS can walk over obstacles ever so sensible and well-adjusted. Additionally, the robot can adapt to the environment and function likewise.
Manipulation
Even besides human-like locomotion, TALOS can many more other affairs. That includes grasping stuff, jumping, changing acting mode, etc. With TALOS, you can perform many similar manipulation tasks. What's even better is TALOS can even change its behavior from manipulation to locomotion. More importantly, it just does that without stopping controllers in between while shifting it. Despite being capable of doing tons of stuff, many upgrades still remain in movement. But that's the debate, which will most likely occur in the coming workshop. 
Perception and Planning
Know that without having a good perception and planning, let alone a robot, even a typical human cannot walk on a bumpy surface. Thus, this proves TALOS has an artificial cognitive brain (program) with perception and planning capabilities. Besides, PAL Robotics discussed TALOS perception and planning in the event quite enough. And also hinted how they're going to make more improvements to this. Even though each of the corresponding works (planning and perception) lies in AI and ML's vicinity, PAL Robotics is significantly focused on optimizing TALOS algorithms to make it wide-ranging in Physical and Mental conduct.
TALOS Thru Project Memmo
In addition to PAL Robotics endeavors, project Memmo is bent on developing an integrated and controllable way to motion origination for bipedal robots. The Memmo project comes under the umbrella of PAL Robotics that also aims to advance TALOS capabilities through project Memmo. Not to mention this type of attempt can increasingly cater to wide-ranging industrial sectors out there. Even though no matter the type of organization, it'll perfectly fit just right. The harsh and yet soothing reality is not far away, where robots can eliminate human pain points by doing their works for them.
However, making a complex bipedal robot in addition to up-to-date computational abilities (nominal and ordinal included) is what project Memmo is all about. While in the project, TALOS is being used for testing new AI algorithms or any advancements discovered. What's more, PAL Robotics is a globally leading corporation located in Barcelona that aims to make home robots, smart cities, and the best of Artificial Intelligence thru the project Memmo.
The Bottom Line
To wrap up, the world as we know it has grown much drastically than we know it. Thanks to such annually conducted workshops that let us about the futuristic stuff such as humanoid robots (TALOS and Memmo). Besides, the world is radically changing, and so does best iPhone app development, having AI-based algorithms in them. So I would even like to draw the intention of mobile app developers to stay tuned with the Humanoids workshop and catch ideas (robotic ideas) to include in apps – that change the entire motion of the world (making it more advanced). See you in the next Humanoids 2022!