Application
Hottest Trends in 2021 for FinTech Application Development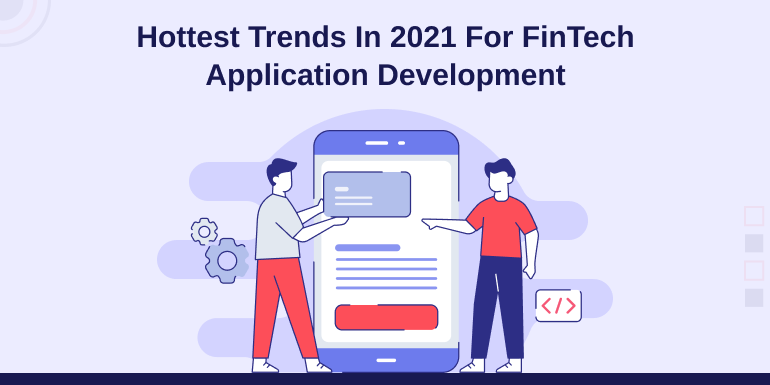 Fintech, a term specific to the financial technology sector, describes companies which involve in the development of innovative solutions for areas such as online banking, financial management, and are also responsible for bringing alternative technologies in the market.
Do you know what's the global value of an investment in fintech companies? Well, it is about 135.7 billion USD as estimated in 2019. Fintech is a growing market with more and more startup ventures coming up every year. North America has the most number of fintech startups with 10,605 fintech companies that have opened up by February 2021.
When it comes to knowing which countries are adopting fintech faster, as per the Statista Research Department, the leading countries in 2019 were China, the US, and Mexico. As per statistical estimates, 65.3% of Americans will use digital banking by 2022.
As there is a surge in competition among upcoming fintech startups and existing ones, businesses are under pressure to create something innovative to attract customers. Meanwhile, the demand for financial software development companies has also risen. So, in this article, we have listed out some must-have features for fintech apps, in addition to knowing what are the upcoming trends for fintech app development.
Must-have exclusive features of Fintech apps
The first time a fintech service ever emerged was back in the 1950s with the launch of the first credit card, you can Buy Cc's. Currently, the fintech sector caters to clients from banking institutions, insurance companies, and financial corporations. 
Fintech technology solutions facilitate faster and smarter banking and enhance the quality of financial services. At present, the below-mentioned existing features are indispensable for any fintech app:
Secure login provision

The facility of receiving real-time push notifications and updates

Accessibility of understandable reports and charts

Easy-to-use features

Instant money transfer features
Upcoming trends of Fintech app development in 2021
You have already been provided with a basic run-down of must-have features of fintech apps above; however, in this section, you would identify what's the latest trends being adopted to design fintech apps.
Reportedly, physical visits to banks by customers have declined by 36% in the last five years as consumers can now avail of digital banking facilities from the convenience of their homes.
Nowadays net banking and mobile banking apps are accessible and proven useful for most customers. Modern fintech organizations are driven by digital-banking approaches, thereby replacing physical banking.
Digital banking is useful for customers from a flexibility standpoint whereas it is beneficial for the banking institutions from a budget-saving standpoint. Ultimately, digital banking facilitates faster bill payments, swift & round-the-clock transactions, real-time analytics, account summary at a customer's fingertips, and easier pin reset options.
Artificial Intelligence in fintech apps
AI-backed virtual assistants are already taking up an important role of customer service in online banking sites, mobile banking apps, and numerous other fintech apps. 
Integration of AI tactics would estimate to reduce the operational cost of banks by 22% in the next nine years. AI will play an important role in fintech app development and help reduce financial fraud incidents and cybercrimes significantly.
Automations are on their way for the future to take care of obvious regular tasks like customer onboarding formalities, verification processes, reporting, and compliance checks, etc.
Artificial intelligence and robotic process automation (RPA) would revamp the fintech sector's operations. Loan repayments could be better handled with the help of predictive analytics.
Incorporation of Biometric systems for optimizing cybersecurity
Financial institutions have the responsibility to provide the most secure environment for its customers. To secure net banking and mobile banking activities, most financial institutions have adopted biometric sensors.
Fingerprint scanners protect mobile apps on smartphones. Fintech's are also including IoT technology to facilitate inter-communication of devices. Some fintech apps have gone one-step ahead by incorporating facial recognition, heartbeat measurement and have adopted more futuristic approaches like using palm-vein biometrics. 
Integration of Voice Search Technology
Voice search is the next-gen thing in areas of digital marketing and fintech. It has been estimated that about 72% of US customers opt for voice search options to find something.
So, the fintech industry needs to upgrade to incorporate voice-based technologies. Already, AI-powered chatbots and virtual assistants are in usage these days in most online banking sites and mobile apps.
Additionally, voice search can futuristically support virtual assistants to execute tasks like handling regular customer queries. These would include enquiring about credit balance, requesting statements, initiating service requests, and a lot more.
Blockchain technology is already doing a marvelous job in the field of alternate currency systems – cryptocurrency. Blockchain technology provides new scope for the development of decentralized financing. 
Thus, blockchain is expected to improve financial data management. Filecoin is a blockchain-inspired online peer-to-peer business platform that permits decentralized commercial interactions. 
The Bottom Line
In order to stay ahead in the crowd, it is crucial for businesses and organizations to adopt newer methodologies and recent technological trends for fintech app development.
In this article, you have explored quite a few fintech app development trends that could potentially make a particular fintech application stand out amongst its competitors, or at least, be at par with them. The incorporation of modern technologies like AI, blockchain, big data, analytics, and biometrics is the next big thing that fintech companies must have an eye for.