Featured
What's in store for FinTech after 2021?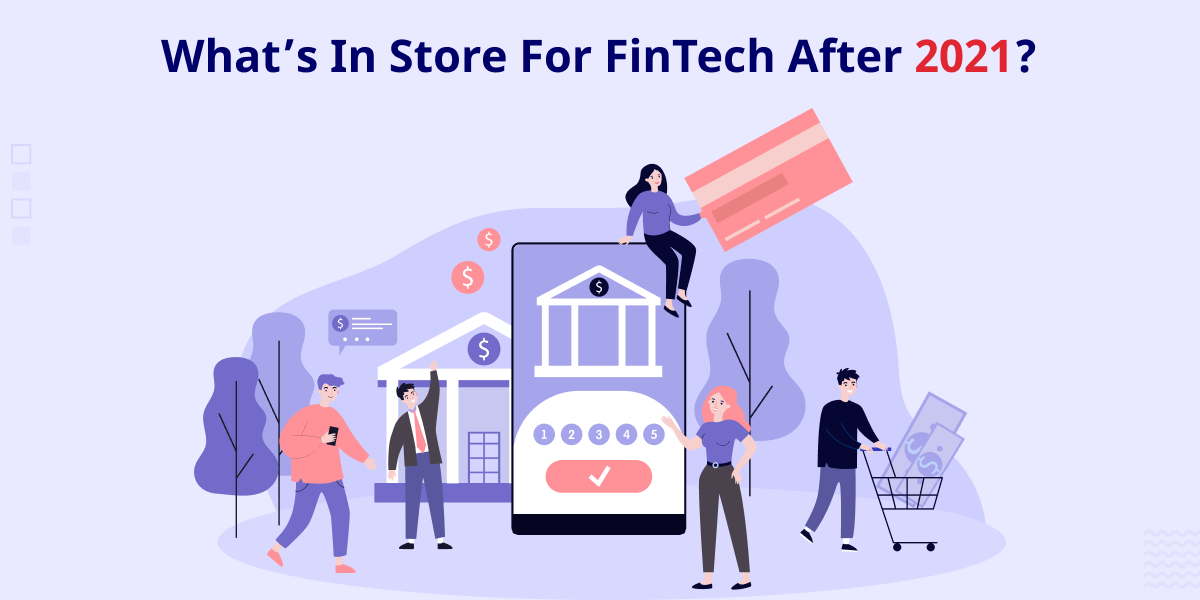 The major fintech trends followed until 2020 underwent a major setback with COVID-19. The pandemic transformed the fintech industry like many others and set the stage for the future beyond 2021.
The financial sector too has started incorporating technological processes with the intention to simplify the banking process. So, what kind of fintech advancements can we expect in 2021? 
Changes that would sweep over the fintech world includes:
– implementation of customer-centered applications, 
– increased collaborations with digital organizations, 
– big data for managing technologies, 
– increased banking partnerships, 
– pandemic proofing technologies taking over the world.
So, ideally, the trend is set for implementing newer technologies. Most trends we observe in 2021 revolve around making the financial technology sector more foolproof & futuristic.
Observed trends leading Fintech industry growth beyond 2021
We would now look at what is trending in 2021 and what would that lead to, in the future?
1. Voice search facilitates conversational banking
Voice search is going to take over the world in the next few years. The Voice search option can relieve you from typing and is increasingly becoming popular among certain sections of society.
In the year 2019, the number of digital assistants touched almost a startling 3.25 billion. Every Offshore Development Company is making it an inevitable step to integrate voice assistants in their development process. This technology is going to enter the fintech market too, since in this way,
–          checking your credit balance,
–          sending statement requests,
–          raising initial service requests,
–          making insurance policies, and
–          querying due dates for loans and credits can be done more easily.
Another notable use of fintech can be in promoting campaigns by targeting certain given keywords. With the current technology on the run, fintech can safely incorporate the voice search process when developing a future fintech app.
2.    Reaching the unnoticed zones
COVID-19 has highlighted areas that still lag in terms of financial development. The rural and semi-urban places would need to be uplifted. With lack of appropriate banking facilities, these population masses do not have access to every form of financial services.
As per the World Bank, an estimated 1.7 billion people across the world do not have the facilities to enjoy a robust financial system. Thus, the rise of financial technologies can support the entire upscaling process of rural and semi-urban towns.
3.    Increased acceptance of cryptocurrencies
The major challenge around cryptocurrencies is centred around their use of advanced financial technologies. Soon, the financial world plans to incorporate more technologies. Once that happens, cryptocurrencies might have better survival chances.
The European Central bank has recently announced the incorporation of a digital Euro. It is anticipated that the possible inclusion of Big data with machine learning into both sectors would bring over a massive transformation.
4.    Robotic Automation Processes
Automation of insignificant financial processes is being targeted for the future. Some management and organizations have revealed employees would be invested instead into more important segments. Financial institutions would immensely benefit from RAP in the following ways:
– security, 
– compliance checks, 
– background verification for loans and refunds are expected to be automated in the future.
5.    Innovations of payment processes
Different payment processes would undergo massive change in the coming years. Mobile wallets already exist and almost 760 million people across the world are using them currently.
Additionally, contactless payment modes would get incorporated more and more in the future. Identity verification processes and increased security needs would also witness the incorporation of AI and machine learning largely.
Fintech technology solutions facilitate faster and smarter banking and enhance the quality of financial services. At present, the below-mentioned existing features are indispensable for any fintech app:
6.    Digital Banking is gaining prominence
Technological advancements fuelled by frequent lockdowns have pushed banks towards digital alignments. Several advantages are being targeted like;
–          zero physical presence,
–          no difficult paper works,
–          global payment options, and
–          Increased use of cryptocurrencies.
Additionally, digitalization would also cover bill payments, faster review of accounts & balances, ease of payments, and much more.
7.    Neobanking
Neobanks can help increase digital footprints across the world. They offer several advantages to their customers.
– Their adoption rates are extremely high and all of their services are automated.
– Neobanks are reviving slowly and would make an estimated 400-billion-dollar business by 2026. Their revival is becoming possible since they are offering a low-cost model and a minimum monthly fee for availing different banking services.
– Real-time notifications and higher transparency rates make them more user-friendly and comfortable.
Neobanks can thus strengthen the financial fabric across the world. Therefore, they are expected to aid in the technological advancements of other financial sectors.
Concluding Lines
Finally, we can safely conclude that FinTech improvisations have already begun in the financial sectors. It is seemingly just a matter of time, that advancements in financial technology would be at par with other industries.
Apart from these, several other financial areas are also rapidly developing in terms of technology. Thus, we can only expect to witness the complete integration of modern technological advancements into the financial sector in the near future.