Social Media
The Best Social Media Analytics Tools for Your Business in 2022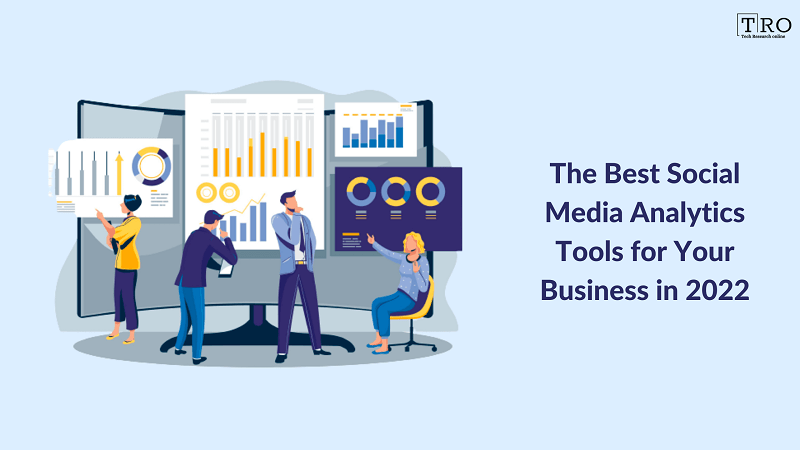 The current landscape of social media is filled with new apps and sites that users are growing to love more every day. With so many social media tools out there, how can you identify which ones are the best for your brand? Look no further than these 8 best social media analytics tools for your business in 2022.
Google Analytics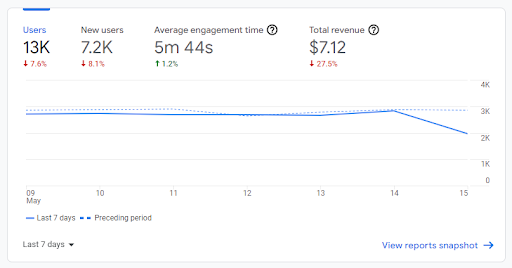 Google Analytics is one of the most popular social media analytics tools. It provides a free and easy way to track your social media channels' performance and identify opportunities for growth. The data Google Analytics provides will give you crucial insights into what your customers are looking for on social media.
You can track how many people are interacting with your content and which posts are the most popular, giving you more information about what to post in the future. Google Analytics also helps you figure out which blog posts or campaigns have the best conversion rates so you can replicate them in the future.
If you are new to online business and social media, or if it's your first-time using analytics tools, I would recommend starting with Google Analytics. While it's not as robust and flexible as most other tools in the market today, it does cover a whole lot of performance metrics, all for free. Google also has different tools like google keyword planner for social media keyword research,  google trends, etc. for free. 
Hootsuite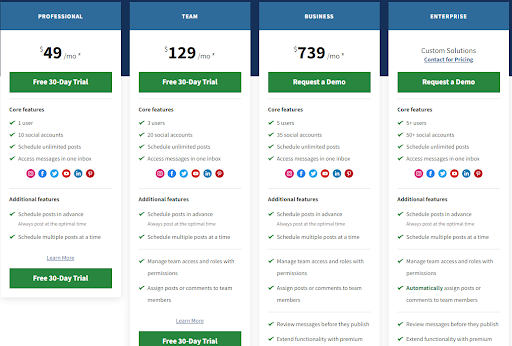 Hootsuite is a complete social media management tool. It's an easy to use dashboard that allows you to post on multiple platforms simultaneously, schedule posts for the future, track conversations, and more. This tool also makes it easier for your company to identify what its followers are saying about your content or products.
Hootsuite pricing starts at $49 for 10 accounts, which I think is pretty generous considering most other tools support way fewer accounts at such a price point. The price does however increase drastically to the next tier locking out most users. 
All plans come with the same core features, but you'll need to upgrade to either team or business to use most of its features. 
All of Hootsuite's plans come with a 30-day free trial. This gives you sufficient time to discover all that this tool has to offer. 
Buffer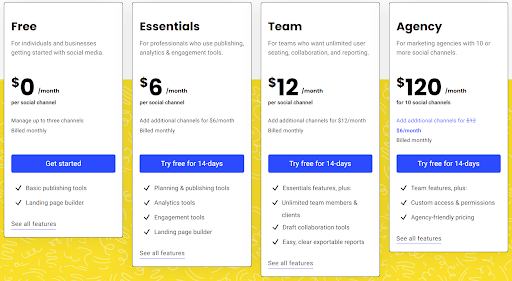 If there is a tool that was created with everyone in mind, from beginners to, it is buffer. I wouldn't exactly call this tool cheap, but its pricing is a bit more flexible and allows users to manage just a single account. 
Buffer makes it simple to share content by linking your social accounts. You can create a post in the app by selecting the accounts you want to use and excluding impossible combinations (for example, Twitter does not allow you to post identical tweets to multiple accounts). You can also schedule multiple accounts to post across your accounts. 
Furthermore, you can add content from other sources such as your favorite blog with the higher plans. With Buffer, every action is intuitive, making it one of the more user-friendly social media management programs. While configuring your Instagram account may be somewhat difficult (thanks to Instagram's restrictions), Buffer makes this process easier than most of its competitors.
The app also allows you to see how your posts are performing with in-depth analytics. This information is crucial for understanding what content works well on which platform and what needs to be tweaked. Overall, Buffer is an excellent tool for managing your social media accounts, but, as I already mentioned, it is exactly cheap. Although it only costs $5 to sign up on the essentials plan, that cost is only for one account. You'll pay a pretty penny to scale up to additional accounts on each plan. 
Sprout Social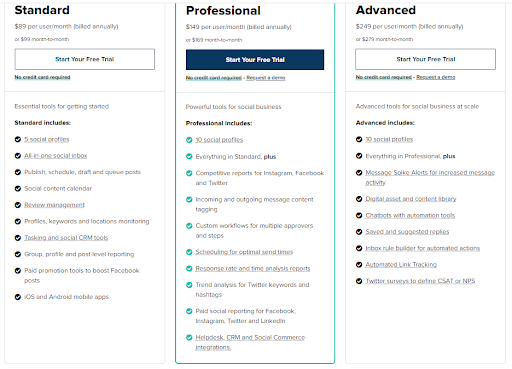 Sprout Social is a comprehensive social media management tool with a wide range of capabilities. It allows you to: 
Use a unified inbox to streamline engagement and monitor all accounts effortlessly 

Easily collaborate with team members to create, plan and schedule posts 

Use social listening tools to discover trends that will benefit your marketing strategy 

Encourage employee advocacy. Your employees can use 'Bambu' to share content across their networks 

Collect data and insights that will drive strategic decision making 
Sprout Socialcategorize its solutions by; 
Business type: small business, agency, enterprise, 

Use cases: social channel management (e.g social commerce), data, and customer care

Industry: from hospitality and care to retail, higher education, and computer and software 
Say for instance you want to use Sprout Social for social commerce. Sprout Social will Provide instant access to product and customer information within your existing social workflows to drive more sales opportunities and deliver personalized service.
I think this is Sprout Social's most unique feature— the fact that you can customize it to perform just that one function that you want it to not only keep you focused on your goal, but it also ensures you get the most out of the tool. 
Apart from social media tools, you can try url shortener tools like T2M URL Shortener. This tool provides options to shorten your long URLs in nice branded and personalized short links, and detailed analytics and also provide QR codes for the same.
So what do you pay for this level of service? The Standard plan is priced at $89/month/user (paid yearly). Not really bad considering the price covers 5 profiles. However, you'll miss out on key features such as social tagging, trends analysis for hashtags, scheduling at optimal times, etc. These and other features are only available once you upgrade. 
SoTrender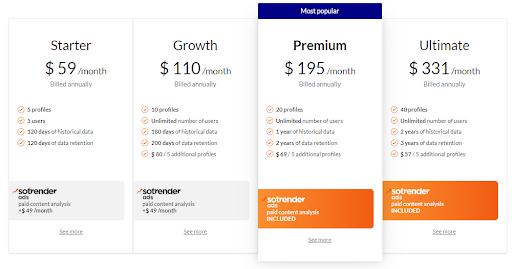 SoTrender, which gives you the ability to track multiple platforms through a single platform. You can use this tool to see how your posts are performing on Facebook, Twitter, Instagram, LinkedIn, and more. 
This app is not free, and with a starting price of $69 per month for 5 profiles, I wouldn't categorize it as cheap either. You have to incur a $49 content analysis fee on its starter and growth plans, making SoTrender even more costly for beginners and small-sized businesses. 
Their AI algorithms however make this tool worth it for businesses that can afford it, and that want to know not only their position in the market but also their competitors'. 
Napoleon Cat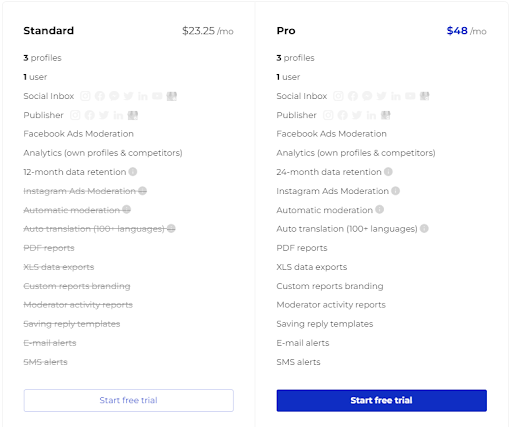 Napoleon Cat isn't just a social media analytics tool, but a collection of tools for managing social media interactions across all your accounts. 
You can manage all messages, reviews and comments in the social inbox 

Use its shared calendar to schedule and publish posts 

Create automated workflows to handle your increasing workload 

Monitor business performance in the analytics section

Schedule reports to automatically send to your team
It is overall a simple-to-use tool with solutions for small businesses, agencies, ecommerce and enterprise-level clients. 
$23 per month for the Standard plan makes Napoleon Cat quite affordable. The only downside is: that you will have to do without useful features such as automated moderation, email and sms alerts, and customized reports, among others. 
You can try it out for free to find out whether these missing features are a deal-breaker or not. 
BuzzSumo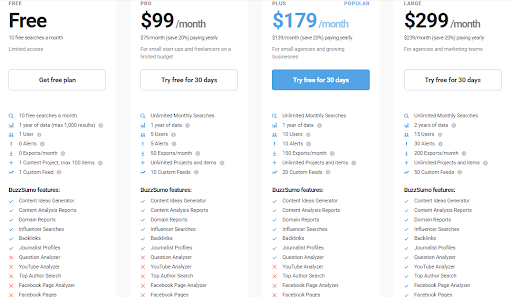 BuzzSumo is a brand monitoring, competitor research, social listening, and social media analytics tool. With it, you can discover the most shared content in social media networks. This makes it a great content discovery app for content writers. 
Its analytics feature shows social media data about certain topics, types of data, most shared domains, etcetera. This cloud-based platform will also complement your influencer marketing efforts, as you can use it to identify and collaborate with influential individuals in your field. 
BuzzSumo is free to try, but also has a free plan that would be great for a beginner who wants to try it out but not sure they want to pay yet. 
It's also simple to use. Overall, although the full version of BuzzSumo is a bit costly, if you want a reliable app that presents current popular content and locates trending topics to share on social media, I'd recommend trying it out.  
Note however that BuzzSumo is not a social media management tool. If you want this feature, you will need additional tools.
Quintly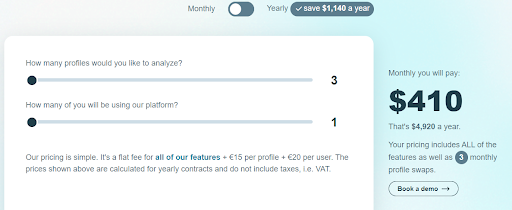 Quintly is a social media analytics platform can help you with Facebook, Twitter, YouTube, Google+, LinkedIn, Instagram, Pinterest, and blog analytics. Although it has a collection of features to support each of these platforms, the most important of those include Competitive benchmarking, centralized analytics, smart reporting, custom dashboards, and overall metrics. 
Now, this tool was created for agencies. Its pricing starts at $410 per month for just three profiles and one user. Pricing increases on a sliding scale for up to 50 profiles and 10 users. 
You can do the same things with Quintly across every price point: 
You can monitor your performance across all major social media networks via custom dashboards and pick any parameters you want.
You can create custom dashboards that include any metric you desire. You can also track key influencers and analyze data collected on their profiles. Additionally, you can export your data to CSV or Excel and download any picture as a JPG, PNG, PDF, or PPTX file. 
What's more, with Quintly, you don't need an additional customer service tool. This tool makes it easy to track customer queries on Facebook and Twitter.
Which Social Media Analytics Tool Will You Choose? 
Every business has unique social media management needs. Some tools like Quintly will best serve agencies, while others like Buffer can handle just one account. 
Your choice really depends on 
Your budget, 

Number of social media accounts, 

Whether or not you'll need to work with your team 

The level of analytics you are looking for 

Technical expertise required to use the tool
As most of the tools discussed here have free trials, try the ones you think will best suit your needs, talk to their customer service to iron out any user issues, and once satisfied, Sign Up.