Social Media
How To Use Social Media Effectively In Singapore: Boost Your Plan of Action For 2022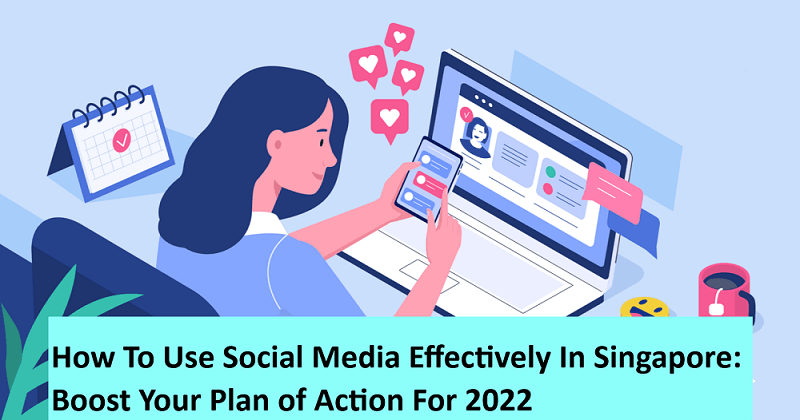 Social networking is a terrific way to stay in touch with pals and reconnect with long-lost relatives and former friends. It has the ability to bring people together and foster communication on a global scale.
Businesses have also found social media to be a useful tool for reaching out to their clients because of its wide reach. Social media has transformed from a basic tool for connecting with friends and family to a vast and sophisticated market.
The marketing landscape has changed dramatically since companies realised the potential of social media marketing. Successful social media marketing yields innumerable advantages.
Among the advantages of a well-executed social media plan:
A better understanding of the brand.

Increase the number of people who see your content.

Improve your ability to relate to your audience.

Increased traffic to the website.

Produce more leads.

Sales and profits will rise as a result.
Continue reading if you're ready to take your social media presence to the next level. We're delving deep into the most cutting-edge strategies currently available on the market.
Lay out your objectives and ambitions
If you want to get your social media strategy off to a fast start, you must have a well-defined strategy, goals, and objectives. How can you attain your goals if you don't know what they are?
Not only that, but if you don't have clear goals, you won't be able to measure or modify your strategy over time. It's important to keep your social media goals in line with your entire marketing strategy.
If you want to achieve your objectives, making a list of them is critical. Writing down your goals increases your chances of achievement by 30%, according to one research. As high as 40% has been reported in certain investigations.
Make your objectives attainable and break them down into smaller steps so that you may achieve them. 
Defeat your social media marketing strategy by setting achievable goals:
Make use of numeric expressions (such as reach 5000 Instagram followers).

Set a deadline for yourself.

Focus on the details and set "SMART" objectives.

Aim to align your objectives with the rest of your campaign's marketing approach.
Do Your Homework And Learn About Your Target Audience
If you want to make money in today's marketing, you need to connect and engage with your audience. But you can't accomplish that until you know your audience like the back of your hand.
If you want to have a successful social media campaign, you need to know exactly what your target audience wants and needs.
What can you do to get a clearer picture of who your target audience is?
To better understand your audience's pain issues, do a survey

Observe their demographics with attention.

Participate in discussions on forums where your target audience is present.

Comment on other blogs with the same target audience as you do on yours.

Every remark or inquiry on your social media accounts should be responded to promptly.

Gather suggestions (using one of the many user feedback tools available).
You'll be better able to aid your audience once you know who they are. They want to do business with companies that care, rather than impersonal corporations. As a result, developing a social media strategy must begin with this phase.
Boost Your Social Media Strategy With Competitions.
Making a social media contest succeed is one of the most appealing methods you can do. You'll gain more exposure, fans, and interaction as a result of this.
Some of the best social contests may be created using a variety of different social contest technologies. The most important part of running a successful contest is to give something of enormous value. Something that your readers will find enticing.
How to conduct a social media contest:
Make a list of your desired outcomes (do you want more Facebook fans for your page? Insta-followers, please! (How many are there?).

What social media platform will the contest be held on?

Set a date by which the contest will conclude and the winner will be notified and receive their reward.

Set up a competition (look at different types and choose the right one for your audience).
Try to persuade your audience to perform some of the heavy liftings to receive amazing results. Set up the contest such that participants who share the contest or do comparable activities receive more entries.
"Pin" on Pinterest, "Share" on Facebook, or "Like" my Facebook page are just a few examples. When they share the link, they'll get one additional entry. This is pure brilliance. To a large extent, your contest will take care of itself!
Ensure That Your Social Media Material Is Well-Crafted Before Posting It
Everything you share on social media should be well-planned. You're doing it all wrong if you're just blogging for the sake of posting.
You'll need to familiarise yourself with the diverse functions of each social network depending on where you're posting.
Here are a few illustrations:
LinkedIn
Business-oriented social media platform. LinkedIn Pulse, a platform for publishing and distributing information, is also included.
Facebook
In today's world, nearly everyone has a Facebook profile. Good for news and entertainment stuff. You can connect with your desired audience with Facebook Groups, but Facebook Pages struggle.
Instagram
It's ideal for material that relies heavily on images. Short movies and still photographs work fine, but they don't help you get people to return to your site.
Pinterest
Pinterest, like Instagram, is a very visual platform. This is a powerful tool for bringing people back to your site, even though it is limited to static pictures.
Once you've learned about the various networks, you may focus on which ones you believe would work best for your company.
Using the appropriate phrases is an important part of a successful social media strategy. Depending on which social media platform you're using, your message will be conveyed in a different way.
It's possible to increase your online presence across all platforms, though.
In order to write compelling text for social media, follow these steps:
Make use of the strategies of the world of advertising and marketing.

Directly speak to your audience.

Start your social media postings with a catchy, witty, or engaging sentence.

Switch up the sort of material you're putting out there (Try linking to blog posts, videos, ask questions, etc).

Each link you upload should include a brief description. Always include the post's title in the headline.
You'll get more likes, followers, and sales leads if you polish your social media content.
Minimise The Use Of High-Pressure Sales Methods.
Traditional, intrusive social media marketing has long been abandoned, and for good reason. To be fair, people don't like being marketed either.
They're looking to build lasting bonds with you. That's the secret ingredient in gaining the trust of your audience or consumers.
They will buy from you if they believe in you. Consumers find it annoying when companies and enterprises publish too many promotional messages on their social media accounts.
As an alternative, you may provide useful material that people truly want to read. Content that entices customers to purchase your goods or services without being overly promotional.
As Part Of Your Marketing Approach, Use Video Content
Most people are aware of the power that video material has gained in recent years. Especially when it comes to social media advertising. In other words, if you haven't done so already, it's time to get on the bandwagon now!
Video footage may be used in a plethora of ways on social media. However, live videos (such as those on Facebook) appear to be all the rage at the moment.
With Facebook live videos, you can establish a more personal connection with your audience than you could with any other type of content. Your live videos may also be repurposed!
By asking questions, people get involved. The best way to prove that you're more than a company is to engage with your viewers during and after your live broadcast.
More than anything else, your customers will appreciate the fact that you're a business owner who genuinely cares about their well-being. Facebook claims that a live video will get six times more conversation and engagement than a recorded video.
The ideal strategy, though, is to use a mix of live and pre-recorded footage. People are going to be swarming to you. 
When It Comes To Photography, It's Important To Go Outside The Box 
So, it should come as no surprise that creating jaw-dropping photographs for social media is a high focus. Creating eye-catching visuals for your company doesn't need to be a graphic designer. Using tools like Canva, you can create captivating visuals that will captivate your target audience.
Outsourcing is an alternative. Many company owners and bloggers use this strategy, and it's a wise investment of their time and resources.
Graphics for the following are required:
Your profile pictures for each of your social media accounts.

Your opt-in freebie images (you'll want to publish these on Facebook sometimes).

Posts to Facebook and Twitter are included in this category.

Images from Instagram if you don't have access to free stock images, you may use Pic Monkey Photo Editor to design a graphic instead.

Infographics.

A visual bookmarking site.
These will alter in size over time. So, while generating them, make sure you do your homework on the appropriate picture sizes for social media. Lastly, you'll want to keep your photos and visuals consistent with your brand and constantly eye-catching.