Technology
How to Build a Strong Online Presence When in E-Commerce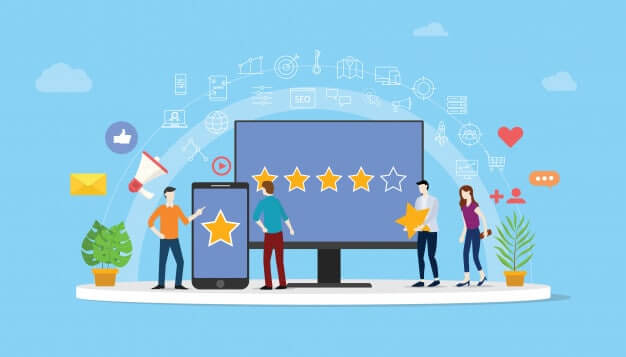 Becoming successful in e-commerce can be challenging. In 2021, several business owners had to experience this difficulty for themselves; taking a brand online is much more complicated than most think. Unfortunately, it's not as simple as creating a website and posting the link on Facebook. Although that's a start, aspiring business owners have many more factors to consider.
Be on Multiple Platforms 
One of the biggest benefits of an e-commerce store is that it allows you to sell your products to and from anywhere. If you have a brick-and-mortar store, you can only sell to people in your area. Of course, you can ship your products but it's not always simple to get one small product from A to B. 
With an e-commerce store, you aren't limited by geography. Thanks to this you can get on several different platforms and sell to different markets. Whether you have an e-commerce or brick-and-mortar store, the main avenue for growth is through customer demand.
You need as many people as possible to see your storefront, and you need them to convert into customers. For example, people walk past an in-person shop every day, and some will go inside to purchase something. The same idea applies to your business online. Seeing your digital storefront—your profile on an online marketplace, or your e-commerce store's website—will make it more likely for people to purchase. 
However, if you want to be successful in selling products, rather than services, you really should consider creating a platform on Amazon. When you are on the platform, you can either sell directly through it or just use its fulfillment service and acquire your orders through other e-commerce marketplaces. 
This is a huge benefit for Amazon users as many other marketplaces don't offer an excellent fulfillment service. Amazon is one of the most competitive marketplaces in the world. If you become successful there, you can become successful anywhere. 
Offload Time-Consuming Tasks
Depending on the scale of your business, and if you can afford to, offloading admin and daily tasks can be one of the best decisions you make. Many successful business owners around the world hire e-commerce virtual assistants like the ones at Wing Assistant, Fiverr, or Upwork. An e-commerce assistant takes care of everything from product listings to bookkeeping, customer services, and much more. 
Tasks like these are essential but business owners shouldn't devote most of their precious time to completing these. Virtual assistants are highly skilled people who can keep your business running smoothly by completing those necessary tasks. When you have a VA, you will have more time for directing and scaling your business to a new level. 
You should be in charge of tasks such as advertisement, branding, and setting sales goals, and if you have a VA, you can devote more time to refining your approach.  Delegation can be particularly challenging if you built your business from the ground up. 
Letting go of some control and allowing a stranger in can be hard. But, it's so very worth it, especially if your e-commerce business is a side hustle, not a full-time job. You can spend those precious hours you have on the most important parts of the business.
Invest in Your Brand 
Initially setting up a business online is relatively cheap, but investing in advertising and marketing strategies is extremely important. Starting out on Amazon is great. It lets you gain a solid customer base ready and waiting to view your products and gives you access to a great fulfillment service and secure payment options. 
However, the main drawback is that Amazon doesn't allow you to learn much about your customer base and it's quite difficult to gather customer information. These components are essential in scaling your FBA business. If you invest in other marketplaces you will have the ability to leverage opportunities that are not available while selling on Amazon. This is crucial in your success and the benefits of investing in other marketplaces should be a big factor when you're deciding where in your business to invest. Money well spent is money well earned.
Build Your Own Website
Creating and owning your own website is a great way to stabilize your brand and prove that you are a trustworthy and legitimate business. With your own domain name and host, you can expand your customer base much further than Amazon. You can personalize customers' shopping experience and make it a much more customer-focused platform. 
Essentially, use your own logo and layout to really make your store stand out from your competitors. Nowadays, it's very easy to build your very own e-commerce website. Shopify is a great platform that allows you to create a high-quality website at just $30/month. These websites are so simple to make, pretty much anyone could do it. You don't need to hire any website creators or IT experts, just you and a computer will do. 
However, if you are more familiar with technology and website building, you may be able to build your website on WooCommerce, a WordPress-based platform. This would cost even less, for the domain and hosting, but involves quite a bit more patience and expertise.
Create an Email Marketing Funnel
Email marketing can be a game-changer for many e-commerce businesses. If you set up several tracking tools on your websites such as UTM codes and Google Tag Manager you will have a better idea of who your customers are, where they are from and what their email addresses are. Gaining customers' email addresses is a great way to personalize marketing campaigns, and this doesn't involve just sending newsletters. You can email out sales, voucher codes, new products, related blog posts and so much more. 
One of the best ways to get to know your customers is through email marketing, ask them questions, sending out polls, and requesting their general opinions. All of the information that you can gain from this can really help your business grow. People might not respond immediately but if they trust your brand and like your products then they will take the time to answer you, and you can learn a lot from this information. 
You can even utilize this further by using the information to explore lookalike audiences on Facebook which is a source you should maximize. Finding people similar to your current customer base and targeting them with advertisements only means one thing, more sales. 
Run Advertising Campaigns 
As we mentioned in the first paragraph, being on multiple platforms and advertising on as many as possible is crucial to your e-commerce success. You need as many people as possible to see your brand, your items and your store. In the last 2 years, the e-commerce industry has become crowded and it's more important than ever to do whatever you can to get your business seen. 
You can run advertising campaigns on social media as well as PPC ads that will capture potential customers' interest. Getting ads running on several different platforms means that you will be targeting multiple audiences, equalling multiple streams of customers to your store. Becoming successful at digital marketing techniques means your broader audience will convert into a broader customer base. 
Start Affiliate Marketing 
Once you have set up your e-commerce store, you should consider having an affiliate program, a marketing strategy that grows year upon year. According to Statista, U.S. affiliate marketing is set to reach $8.2 billion in 2022, which doesn't come as much of a surprise. Back in 2017, 40% of U.S merchants were using affiliates as to their main way of acquiring new customers. Collaborating with affiliates means that you can leverage platforms, without having to even reach out to them, saving you time and money. 
The affiliates will market your product for you on their own platforms which widens your customer base and in turn, increases your sales. Setting up an affiliate program is pretty cheap, Shopify or Woocommerce offer programs for less than $200 per year! 
This is certainly an expense that you can quickly recoup if your affiliates successfully bring in new customers. Despite this, you do need to be careful when picking your affiliates, you can find them yourself or use a service but it's good to have some background knowledge about social media before trying to find the correct affiliates for your business. 
Offer Round-the-clock Customer Support 
Offering round-the-clock support should be an important factor to consider when you really want to upscale your business. This is a costly expense, but it can quickly elevate your business and make it stand out from the crowd. Customers really appreciate it when they can talk to someone, at any time of day, wherever they are in the world. 
If your budget is relatively low, this round-the-clock support can be in the form of a highly functioning chatbot. As long as you ensure that its content is sufficient and can answer the FAQs then it will do, for a certain amount of time. However, when your business becomes more popular, you will need to invest in a virtual receptionist or virtual customer support service that can take care of your whole customer support sector.
Start Focusing on Retention
Finally, one surefire way of seeing growth in your e-commerce business is to focus on retention. Acquiring new customers is relatively easy, with some marketing and a nice-looking website, ta-dah, a customer buys a product! But what makes them come back to you? Serving your existing customer base is what business is all about. 
To be able to successfully retain your customers you need to learn about them, unfortunately, this has become more difficult in recent years if your only platform is Amazon. They have constantly been shrinking the amount of customer data that businesses receive making it more difficult for businesses to learn about their own customers. However, if you have other platforms then use those to gather information on each and every customer you have. Customize email marketing, find out what they like and don't like about your brand, and its products, and most importantly discuss everything with them, and actually listen! 
Succeeding in e-Commerce Takes Time
Simply said, becoming successful in e-commerce takes time, a lot of time. But it's well worth the wait, the expense, and the devotion. Just being able to sell on multiple platforms can elevate a business and attract customers from all around the world in a matter of weeks. Yes, it takes time to create attractive-looking profiles on social media and marketplaces, but it's so worth it. Invest time, and some money, in your business and it will succeed. 
Even the smallest decisions can make a huge difference. Offloading tasks to a virtual assistant might not seem much, but it allows you to spend your time on making the business the best it can possibly be. 
Following the same point, hiring a virtual customer support service might seem like a small decision, do customers really need to speak to someone 24/7? Yes, they really do! This choice alone can create a huge amount of trust with your new and existing customers. In the end, what matters most is providing a valuable service that matters very much to a group of people willing to pay for it.