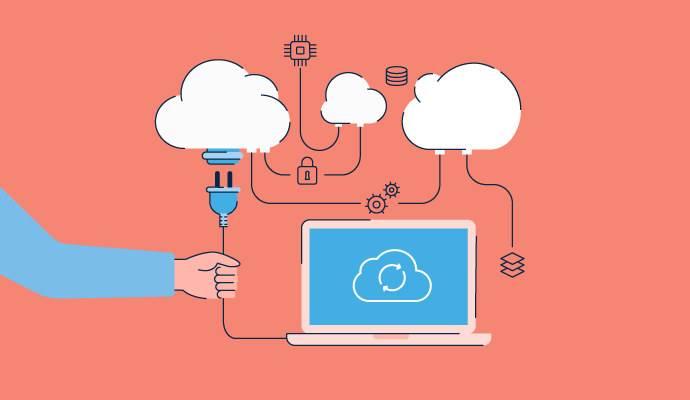 Cloud service providers often give a flexible plan that can be customized according to business requirements. This must be done as businesses may have to either scale up or down. Remote working solutions have been at the forefront of businesses in recent times and owing to this, there has been a stark increase in the adoption of cloud engineering services.
There is widespread usage of the cloud in businesses and enterprises. Cloud migration refers to the process by which digital resources and data are moved from infrastructure that exists on-premise to a cloud environment. It is crucial to pick the right resources to be backed up on the cloud as crucial company data can be open to threats if stored on the cloud without the right safeguards.
There can be cloud services that exist exclusively from each other, but it is also possible to create a cloud eco-system that consists of both on-premise infrastructure and a cloud.
Let's look at some of the advantages a business can benefit from by migrating to the cloud:
Advantages of Migrating to the Cloud
Remote Collaboration and Integration of Resources: Cloud services enable a business to access resources remotely. Service documents and databases alike can be accessed from anywhere with the help of a variety of communication tools, software, and applications. This directly enables teams to collaborate in a remote environment more efficiently. Resources can also be integrated with different systems smoothly and cost-effectively.
Visit here: Top Digital Engineering Companies
Cost-effectiveness enabled by Scalability: Infrastructure as a Service (IAAS) gives the flexibility to adjust the infrastructure and investments according to business needs. It also becomes easier to improve the quality of work when cloud-based solutions are used. There are significant savings in terms of resources, real-estate costs, and maintenance which directly helps enterprises to optimize their workloads with fewer costs and increased scalability.
Security and Improved Monitoring Capabilities: Cloud providers usually have access to much more comprehensive and strong security. Most cloud providers give a Shared Responsibility Model which helps in splitting the responsibility of maintenance and security of the cloud model between both the service provider and the customer. Cloud solutions often also have an in-built monitoring system that is automatic and have a standardized key metric. The enterprise and the customer both have access to reliable and accurate data about the infrastructure and subsequently can maintain the overall cloud service efficiently.
Improved IT Management and Increased Collaboration: Any cloud infrastructure can be simply managed on a web interface or controlled through an API. In recent times, most cloud interfaces provide a myriad of functions that enable businesses to monitor, adapt and construct their cloud environments according to evolving business needs. Remote teams working from different locations are enabled to collaborate more efficiently over the cloud.
Compliance and Accessibility for Business Agility: In industries such as healthcare, government, and finance, there is a need to adhere to various compliance requirements set by industry standards. This is aided by cloud services which have special offerings to seamlessly integrate and use cloud service providers to increase business agility.
Let's now look at how data migration and cloud computing work in aiding a business with efficiency and productivity:
Data Migration Aided by Cloud
Virtualization allows the developer to create a digital environment that is simulated to behave as a physical computer with its hardware. This is often called a virtual machine where it exists as a separate sandbox. In this kind of environment, the simulated environments do not interact with each other and the application and files exist exclusive of each other. Even though they are on the same physical machine, virtual machines help in making more efficient use of the hardware that is hosting them.
This is achieved by running multiple virtual machines simultaneously- where the servers multiply along with one data center also becoming a host of data centers. This ultimately helps to serve multiple organizations and to increase the overall productivity of the enterprise.
Hurdles can arise when migrating data to the cloud. Let's see what they are and how they can be mitigated:
Overcoming Challenges to the Cloud
Vendor Lock-In: This is the most common problem for any enterprise or business when they start to plan a cloud migration strategy. Cloud providers and vendors often provide several services that cannot be extended to any other cloud platform. The process of migrating workloads from one cloud to the other is very costly and time-consuming. An enterprise needs to ensure that it is not difficult to switch cloud providers if the current provider does not suit its business requirements.
A Comprehensive and Tested Cloud Strategy: Many organizations start their cloud migration journey without giving adequate time and attention to detail to their cloud strategy. To adopt a successful cloud strategy, it is important to ensure that the implementation is complemented by meticulous and rigorous migration planning. Different data sets and applications can have different requirements which may require a tailor-made approach to the cloud migration strategy.
Cost Management & Security: Many organizations do not have a clear set of key performance indicators before adopting a cloud management strategy. A budget is required to plan over the long run as the enterprise needs to be aware of what to include in the strategy, and where to spend and save after the migration process ensues. Cloud environments in general are complex and dynamic which leads to them changing rapidly. This happens when there are new services and features that are adopted in the application and as the overall usage increases.
Develop a Controlled Cloud Strategy
Moving to the cloud is a thorough opportunity for any business to become more innovative and agile. There is a need to assess the kind of resources and data that is already in place to build a comprehensive cloud migration and business strategy.
The components of any enterprise's infrastructure need to be taken into account and there needs to be a check on the existing in-house expertise. This helps in ascertaining what resources are at a business' disposal and can give a clear vision to create an end-to-end strategy that can help with the cloud migration journey.
A simplified cloud migration strategy is necessary for companies to ensure that there is reduced technical debt and to ensure seamless movement of data on cloud services. This can go a long way in protecting company data and applications from cyber-attacks. Migrating to the cloud can provide a business with seamless cloud services and the ability to migrate data and services to public, private, and hybrid cloud environments with ease.
Author Bio:
Based in Bangalore, Adhithya Shankar is a B.A Journalism Honors graduate from Christ (deemed to be University). He is aspiring to complete his higher studies in Mass Communication and Media, alongside pursuing a career in music and entertainment.
Infographic: Differences Between Public, Private & Hybrid Cloud
Differences Between Public, Private & Hybrid Cloud

Infographic created by Hotwire Networks