Review
MilesWeb Review: The Reseller Hosting to Start Your Business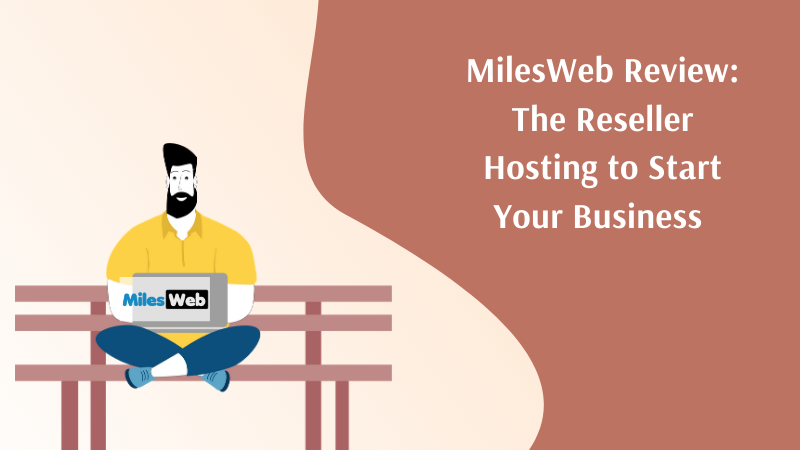 Are you a tech graduate, a web developer, or a programmer and looking for ways to start with an enterprise of your own?
Here is the blog article for you.
The monotonous life makes every one of us do things out of the box some or the other day. Most of the time the out of the box thing is a start-up idea. At least once in life we dream and have thoughts about having our own business, and we research the permutations and combinations regarding what budget-friendly business we can have.
So, if you belong to technical background and have some fundamental know-how about web development, web hosting and the internet you can at ease start your business, investing the least amount.
That is quite possible with reseller hosting. 
Again to start your business as a reseller host you do not need to be a technical or web hosting professional. Any individual can become a reseller host with the minimum hosting knowledge.
About Reseller Hosting
Reseller hosting is a type of web hosting in which an individual buys web hosting plans in large quantity from the web hosting service provider and sells it to his clients.
The person buying the reseller hosting plan is called the reseller host and the company selling the reseller hosting plan is called the merchant company.
The reseller divides the bulk plans into a smaller web hosting plan considering the requirement of the customers. Some of the merchant companies divide the plans for their reseller in advance. 
With the reseller plans a reseller host gets various server resources like cPanel accounts, SSD disk space, host unlimited domains, unlimited bandwidth, free SSL certificate, Softaculous, databases, email accounts.
Pints to consider before starting a business as a reseller host
1] It is important to have your website, to release the details about your web hosting plans.
2] Have an alluring brand name.
3] Try to implement unique facilities to fascinate customers.
4] Know your targeted audience.
5] Know about your business contenders.
6] Learn the competitive advantages for business development.
7] Know about various reseller hosting plans.
8] Research the web hosting providers in the market.
Point to consider while selecting a web hosting partner
1] See to it that you are getting your reseller hosting plan from a trusted web host.
2] The merchant company provides you white-labeled hosting service.
3] 24-7 customer support.
4] The best uptime guarantee.
5] Money back policy.
6] Best server infrastructure.
7] Reliable reseller hosting plans.
8] Free Migration.
9] Security concern management.
10] Choice of data centers
While you search for web hosting service providers it is important to consider the above-mentioned points to cut down the haphazard situations in the future. 
Speaking about the best web hosts in the market MilesWeb stands first for providing the best hosting services.
About MilesWeb
MilesWeb is the best web hosting company in India, offering a wide range of web hosting plans and services like shared, VPS, dedicated, cloud, and WordPress hosting etc. The company was founded in 2012 to provide the best web hosting plans and customer support. MilesWeb's expert support staff works round the clock to solve customer queries effectively and efficiently.
Apart from offering reseller plans for only Linux-based systems, the company also offers the highest and most affordable Windows reseller hosting. The company offers shared hosting, VPS hosting, dedicated hosting, managed AWS cloud hosting, reseller hosting, and other web hosting services.
The key reason for advising MilesWeb is that, unlike other web hosting companies, they have excellent customer service. The company has over 30,000 happy customers and the rate is thriving rapidly. The company is well known for providing the best offers and exciting discounts on all the hosting plans.
Reseller web hosting plans provided by MilesWeb are:
Micro, Startup, Grow and Expand.
The base plan is the Micro plan furnishing the following resources:
5 cPanel Accounts

10GB SSD Disk Space

Host Unlimited Domains

Unlimited Bandwidth

Free SSL Certificate 

cPanel + WHM

Softaculous

Unlimited MySQL DB's

Unlimited Email Accounts
The reason behind opting for MilesWeb's reseller hosting plan is, it provides the best features mentioned below:
Host Unlimited Websites
You can host multiple cPanel accounts. The number of sub-domains and add-on domains that can be added to a single cPanel account is unlimited.
100% White Labeled
MilesWeb does not act as a barrier between you and your clients, which is why all reselling packages are fully white-labeled. The full white label scheme hides your merchant business from your clients, allowing you to market the goods under your own brand name.
100% Solid-State Drive Storage
If speed is your preference, SSD storage is all you'll require. Traditional hard disc drives will get you nowhere, while websites hosted on SSD servers will improve website capacity.
One-Click Installer
Softaculous one-click installer helps you to install 400+ applications in just a few clicks, including WordPress, Joomla, Drupal, and more. These applications can be installed by you and your clients in a matter of seconds.
cPanel Control Panel
The cPanel is a control panel that enables you to handle client's addresses, domains, and websites from a web-based GUI, and make the most of it. You gain the ability to control your storage space and bandwidth usage, as well as the ability to suspend, unsuspend, and terminate your clients' accounts.
Apart from all the features, MilesWeb provides a web host manager, data center choice, free website builder, malware scan and protection, Email service. You get free migration free SSL certificate for all your clients. 
To Sum it up:
MilesWeb offers a full reseller package at a low price. Reseller hosting is the most cost-effective way to start a web hosting company, and MilesWeb is the best host you can get to buy a reseller hosting package.