Review
Anthony Constantinou Explain the Kinds of Web Hosting Services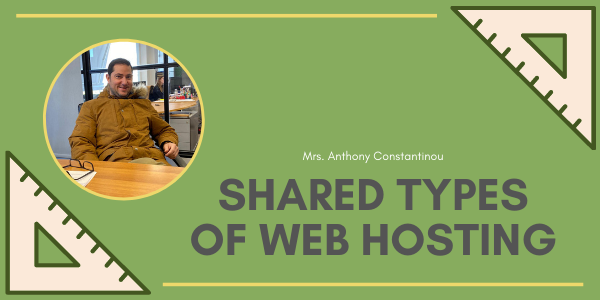 For those who are just starting out with an online business they need to be aware that they will require the following: a) A Website b) Domain name c) Hosting service provider.  For any site to be accessible to online users having a server that has the task of hosting a website is a pre-requisite. A web host itself comprises of different types with some being for e-commerce sites and others for exclusive clients. 
Web hosting in itself has become a major online business and is a complicated process.  The fact of the matter is that there are millions of websites available online with thousands more being added on a regular basis and every single one is located virtually. The greatest challenge is that the host service has to ensure that these sites are accessible by millions of online users every second of the day, 24/7 and 365 days of the year. Being able to technically maintain and manage such extensive data is indeed a tedious job that requires expertise, time, manpower, and technology. Anthony Constantinou says every web hosting service has some unique features of its own which you will not find with its counterparts. Then there is paid and free hosting with the former providing exceptional features to its users. 
Dedicated host
:
In a dedicated host a single web server fulfills the needs and requirements of a single client. In this facility, a client is provided complete control over the server (although he generally does not own it) and given root access to administer the system. The benefits of going in for dedicated hosting are a reduction in downtime and access to high speeds. The flipside is the cost factor (can be expensive) for hosting and server maintenance charges and only large businesses and companies that need vast system resources are able to afford and manage them.
Shared host
:
The plus with shared hosting is it is much more affordable than dedicated or collocated hosting however it does not provide unique benefits and features like them. In this, a number of clients share a single web server and its features. Although this may be cheap it greatly reduces access speed and there are more frequent incidents of downtime. Besides, any updates or software cannot be installed as easily in the other two options.
Collocated host
:
The major difference between collocated and dedicated hosting is that the server is located at a client's choice of facility and is owned by them. It is a more expensive option than dedicated hosting and is a preferred choice by those clients who need high access speed and top levels of virtual and physical security. The client also has the privilege of performing up-gradation of hardware and installing applications or software, as ownership lies with them. 
Free host
:
This is free of cost with revenue generation through ads. Instead of a domain name, a sub-domain is given and is used by those into blogging or who just want their website online. Of course, there are numerous limitations to it with no updates, applications installation etc. permitted. Besides, bandwidth is limited to more downtime. Still, it works for those who just want a website online.
Reseller host
:
Those clients who want to themselves become web hosts can engage in reseller hosting services. If a company has purchased hosting space but is interested in earning revenue they have the option through this to rent space to third parties. This involves sharing hard disk space and also bandwidth. Although, they are a client they can be a web host for other websites. It is a popular form of hosting because it provides the option to earn additional revenue with some companies preferring it as a more viable cost-effective option than shared hosting.