Technology
How can Dynamics 365 Intelligent Ensure the Resilience of the Supply Chain?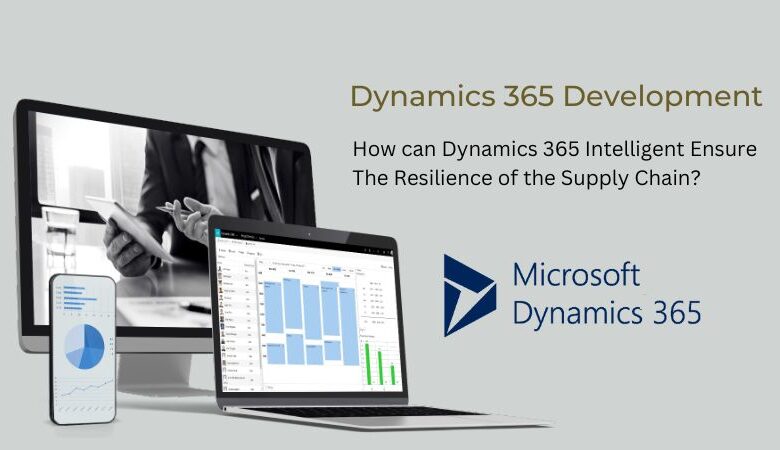 There are a variety of firms that are forced to deal with supply chain challenges that are readily solvable thanks to developments in technology. However, because of certain constraints and difficulties imposed by the industry, some firms are unable to completely use newly developed technologies.
It's possible that some companies won't be able to receive real-time sight of their stocks all the way through the supply chain. On the other hand, outmoded technology might reduce the amount of business continuity available in the event of an interruption or any other kind of problem. In the absence of an appropriate supply chain management system, there is a possibility of an inability to respond to the quickly changing dynamics.
Any recently developed technology that makes it possible to make decisions based on data should be at the core of the strategy development process when dealing with these difficulties. The Microsoft Dynamics 365 Development Intelligent Order Management platform is a cutting-edge solution that is both agile and flexible. It is an open system that encourages enterprises to do the same thing.
How does Dynamics 365 development help companies improve their supply chain?
The technologies that are being developed for Dynamics 365 are helping enterprises alter every area of their manufacturing and supply chain operations in a proactive manner so that they can decrease the number of supply chain interruptions. These newly developed and improved capabilities shorten the amount of time it takes to bring a product to market, increase planning agility, optimize inventory and logistics operations, enhance production, manage and extend the life of manufacturing fixed assets, instantly scale the technical infrastructure required for instantly changing production requirements, and give e-commerce a new lease on life. It integrates blockchain technology into the system, controls automation and lowers downtime via the use of IoT and mixed reality, and enables the agility to reschedule production in real-time in response to demand that is subject to dynamic shifts. Companies do not need to build, acquire, install, and manage their own computer network infrastructure in order to accomplish any of the aforementioned goals. Simply because everything is stored on the cloud.
Overall, the objective is to meet or exceed customer expectations by reliably delivering goods on schedule, maximizing resource planning, adjusting to changing business models, maintaining company continuity, and maximizing profits.
The following are some points that express the same message: Intelligent Order Management provides Supply Chain Resiliency.
Incredible Fulfillment Optimization
The emergence of these problems may be attributed to a confluence of variables, some of which include contact centers, physical storefronts, online marketplaces, and e-commerce. In addition to this, there is a wide variety of choices for completing orders, such as distribution centers, drop shipping from suppliers, and logistics companies. And eventually, any site that has inventory and from which they are able to draw in order to fulfill consumer requests.
One of the most intriguing aspects of the Intelligent Order Management system is the fact that it is a self-contained SaaS solution that does not rely on any other D365 applications in any way. Because of its open, interoperable, and modular technical construction, your company has the potential to reap the benefits of an extensive ecosystem of order source management systems. Some examples of these systems include online mobile applications, online e-commerce, social platforms, and brick-and-mortar channels.
Intelligent Order Management has a sophisticated tax determination and compliance system, which is another one of its many beneficial features. Using this system, you will be able to connect to the tax engines provided by third parties, automate tax computation based on product categories, location rules, and files, and transmit tax payments to the appropriate countries. It is able to deduct the appropriate amount of tax on exempt sales while also taking care of the necessary paperwork.
Intelligent order Management provides your company with the means to easily scale tax order compliance on a global scale. This can include value-added tax, sales tax, lodging and occupancy tax, seller's use tax, and consumption tax, amongst other types of taxes. You can choose from a variety of pre-built partner connectors.
Bottom Line
Switching from a reactive to a proactive mode of operation will allow you to achieve maximum financial visibility and profitability. The development efforts of Dynamics 365 are focused on producing game-changing technological solutions. It assists you in constructing an environment that is optimal for your manufacturing mode, whether that mode is discrete, lean, project-based, process-based, or mixed-mode production.