Software
5 Best PDF Combiner Tools | How Can They Help Your Business Management?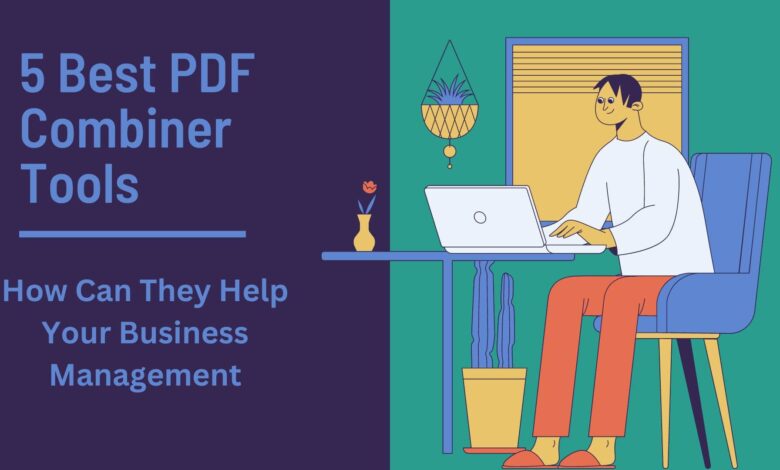 Documents can be tricky to manage especially when you have so many of them to manage and organize.
Many businesses suffer due to poor management and ineffective control over documentation. 
No matter what tasks you may execute in a business, whether it is reporting or recording, managing tasks can be hard. 
Introduction
We are all familiar with PDFs, but how many of us think about the fact that they can be split, merged, and combined? 
Or that they can be created from a whole host of other file types? 
It is a wonder of modern technology that we can so easily transform our documents and data into more useful forms.
In the rapidly developing digital world, document management has become quite problematic for users to manage. 
There are many challenges that businesses have to overcome in order to manage documents effectively. 
An effective solution for document management issues is needed to improve productivity, efficiency, and other related business activities.
By generating convenient and manageable document workflows, a combiner tool can significantly improve document management and organization.
This can help users such as students, teachers, reporters, and even businesses achieve their goals.
A total of 5 different effective PDF merger tools will be listed in this blog post with their features in detail.
This blog post will discuss how PDF combiner tools affect document management and a few business applications, like digital marketing, reporting, and recording.
One of the best combiner tools available on the internet is PDF combiner. 
It merges documents with great ease and has very convenient features that make things easier. 
You can combine an unlimited number of PDF files using the PDF merger tool without paying a fee or creating an account. 
You can save time by using this free online tool to automatically combine the pages and save them as a single file.  
You can combine your scattered and poorly organized files with the aid of this tool, store them easily, and manage them without any issues. 
All you have to do to use this tool is to drag or drop or just simply choose the files directly from the tool. 
This straightforward tool is accessible through all popular web browsers and is compatible with all digital internet-enabled devices. 
After that, you can go ahead and rearrange the files as you need on the tool.
The tool is fast in operation and quickly merges your files. 
So you do not have to worry about any data loss or quality loss, or data issues when you are merging files with a PDF combiner.
Another smart PDF merger tool that can conveniently combine your documents is PDF combiner. 
This simple-to-use tool is available on all major web browsers and can work on all digital internet-enabled devices. 
This tool can really help you save time and money and make it easy for you to organize and manage all your documents.
There is no need for you to pay any money or register with any account on this tool. It has a simple interface and non-intrusive ads. 
The tool preserves your documents and their quality. 
So you do not have to worry about any data loss or quality loss, or data issues when you are merging files with a PDF combiner. 
PDF Combiner is a fast and quick processing tool that can combine your files in no time. This makes this tool even more convenient for businesses. 
If there is an online site with comprehensive and dedicated tools, it is Tinywow. 
Tinywow has an impressive list of 200+ online tools ranging from PDF to AI Writing tools.
It has a dedicated PDF merger tool that has great features and makes it easier for users to manage and organize their PDF documents.   
This online site has about 6 different categories of tools that are absolutely free of cost.
There is a free to use tool for almost anything that you want. This site is a suite for all the major digital tools that you may need.
Tinywow has no security or safety issues, and all the data that is processed on this site is deleted within an hour.
So you do not need to worry about any safety or data issues. Tinyowo also has no compatibility issues and works with all supported browsers and devices. 
Unir PDF is a well-known and excellent document tool for Spanish users because it combines all the files you provide into one document in Spanish quickly and easily.
"Drag and drop" is one of the simplest ways to get started using Unir PDF, thanks to its straightforward and simple user interface.
It is a straightforward and secure PDF tool that ensures the privacy of your PDF data by not storing any of it on its servers.
The Unir PDF tool provides the best outcomes while maintaining the quality of the files in a similar manner.
It can be accessed using any laptop or mobile device that has an internet connection.
You can still access the completed copy of the document you edited even if you accidentally navigate away from your search engine. 
This is great because you will not have to do it all over again.
There may be times when you need to create many PDF files that are all of the same type or classification.
Giving it to someone unable to manage and maintain that many documents could be problematic.
The best course of action would be to describe a process for combining all PDF files into a single document.
The Unir PDF, which accomplishes this, allows you to seamlessly combine multiple PDF files into a single document.
This method is simple enough for anyone to employ.
AvePDF is also an online PDF utility tool suite that has quite a few very useful tools. 
With a collection of specialized PDF utility tools, Ave PDF has a great PDF merger tool.
The maximum file size for uploading is 128 MB, and if that amount is reached, you can upload more files one at a time again.
You need not be concerned about the security of your documents because this practical tool uses the best encryption techniques to safeguard the information.
Within 30 minutes, all documents are instantly removed from the tool, which makes it even safer for users. 
You can also delete the documents yourself as well.
Immediately after the merge operation, you have the option to manually delete your file by choosing the bin icon.
The tool also offers a variety of upload options, including Google Drive, Dropbox, and a URL option, for maximum user convenience. 
Any one of these quick and easy methods will let you upload PDF files.  
AvePDF also has 3 different sharing options after you merge your documents.
After you merge your documents, you can share your file using google drive, dropbox, or a direct link.
How can PDF Combiner Tools Help with Your Business Management? Benefits and Features. 
With an online PDF combiner tool, businesses can easily combine the content of several PDF files into a single document. 
A PDF combiner can be very useful if you work for a large organization or even a small setup that distributes hundreds of PDF files each month. 
To accomplish this, simply arrange the documents you wish to combine into a folder on your computer, after which you can use the tool to combine them all into one document.
This tool makes it simple to join two or more PDFs and merge existing documents with PDFs. 
This makes it perfect for use, for example, when working with PDF files that a third party has sent you.
It is also great for people who need to work on documents with other people in order to make a single document with everyone's work.
This is the ideal solution for those who need to work together on a PDF document that has already been produced.
Businesses can save time and effort and free up space on their hard drives and other storage spaces by combining multiple PDFs and merging them into a single document.
Additionally, it can help you manage a large number of documents without the need for additional staff, allowing businesses to work independently. 
In contrast to other expensive and paid tools that are excellent for beginners and businesses on a budget, a merge PDF tool is completely free to use and has no user cap. 
When uploading, sorting, processing, and downloading your merged files, a PDF merger tool is designed to work quickly and won't keep you waiting. 
The user doesn't have to do any configuration or check any settings in order to merge PDF files.
Except for the manual arrangement, which the user can carry out on their own, the entire tool is automatic.  
Since it does not require specialized technical knowledge, the tool is easy to use and appropriate for fourth-grade students. 
The Merge PDF tool does not use flashy, sharp graphics and has a straightforward layout that does not confuse visitors, unlike many other tools.
The tool does not charge you a penny or urge you to purchase any premium versions or upgrades. 
This makes the tool free of cost. 
These professional PDF tool sites are optimized to load quickly, so the user does not have to wait and get frustrated.
Many online tool sites have a ton of very bothersome advertisements that take up a lot of valuable screen real estate. 
In contrast, the PDF Combiner online tool site has a few minor ads that only occupy corners and do not distract the user so that businesses can work in peace.  
No Personal Data Collection
After processing, any documents that the user has combined with the free PDF combiner are deleted right away.     
It also has a strong security algorithm that prevents hackers and other outsiders from getting to your private documents. This makes it safe for all users, including businesses. 
Cloud Storage Data Upload
The PDF online tool includes another very smart and convenient feature for uploading files.
It has 2 to 3 options, such as Google Drive, Dropbox, and even a URL option to upload files.
So if the user has PDF documents stored in Drive or Dropbox, they can directly upload the document through those platforms.
Or if the document is on the web, the user can copy the URL and then paste it on the tool to upload the document. 
 

Drag and Drop File Arrangement
Before merging, the user can change, reorder, or even delete the PDF documents in the tool. 
The user can easily and without any problems share the combined file in three different ways after the merge process is complete: via WhatsApp, email, or a direct link. 
Strict Safety and Privacy
The PDF Combiner tool sticks to a strict code of privacy and does not require registration, private personal information, or account information from users. 
The risk of data loss and any corruption is also decreased by strict safety and privacy measures, so all the user's data is safe on both ends. 
What Is the Usefulness of a PDF Merger Tool for Businesses?
Complete document size reduction.

Offers Great User Convenience. 

Reduces unnecessary white spaces and blank pages. 

Easy Sharing and Printing of corporate documents. 

Combines Docs to make them effortless to organize.
When Working with PDF Documents, Here are Five Must-Follow SOPs:
Password-protect your documents.
Protection of documents, especially corporate files, is crucial and helps safeguard the documents.
Make sure that you add a strong password that can secure your file well. 
Keep all of your PDF files in one location.   
The easiest and best way to have quick access to your important documents is to store them in one location.
This makes it easier for any user to access as they do not have to access at multiple points. 
Share PDFs Using an End-To-End Encryption Platform.
The most secure way to share and send corporate documents is through encrypted networks and platforms.
You can use Google Docs, Dropbox, and other platforms to safely transfer your confidential documents. 
Make A Titled Archive for Your Files and Folders to Make Them Easy to Recognize.
Another simple trick to organize and manage business documents is to name them and add them to labeled groups.
You can add the general files in the general folder and academic, corporate, report, and record files in their respective folders.
This way, you can easily sort and find the right documents when you need them.
Make your files handy from anywhere by using cloud storage.
There are different platforms that you can use to store files online as you need. 
Google Drive and Dropbox are two platforms that provide users with cloud storage. 
Both of these services are great for online cloud storage. They also help you edit, organize, and share with permissions. 
Conclusion:
A PDF combiner can be a very useful tool for digital businesses and businesses that must distribute numerous PDFs.
A list of PDF Combiner's most practical features and advantages is provided in this blog.
This is due to the fact that you can combine various PDFs into a single file and share it throughout your team. 
It helps you save time and money, which is great for starters and businesses on a low budget. 
Additionally, it greatly helps lower the possibility of data loss and corruption, so the user can be free about his/her document safety. 
If you work for a large company or even a small setup that sends out thousands of PDF files each month, a PDF combiner can be very helpful. 
PDF combiners offer a great deal of convenience to such users in terms of document management. 
PDF combiners can not only help you save extra printing and batch printing, but they can also help you organize, maintain and streamline your documents. 
It is even more amazing when considering that this functionality is available in one affordable tool. 
Here is a summary outline of all the headings mentioned above:
5 Best PDF Combiner Tools | How Can They Help Your Business Management?
How can PDF Combiner Tools Help With Your Business Management? Benefits and Features. 
What Is the Usefulness of a PDF Merger Tool for Businesses?